Bed model Large Pipe Cutting Machine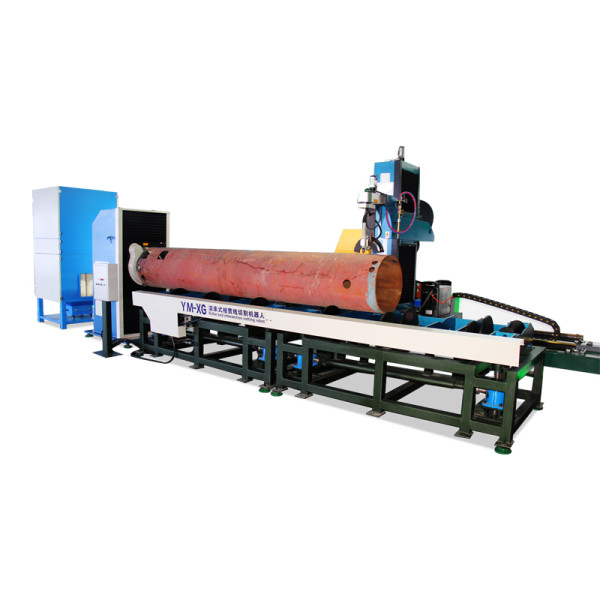 Bench Type Large Pipe CNC Plasma Cutting Machine Visual operating platform,Simple and intuitive operation software.
YM-LBP series CNC pipe plasma cutting machine is a device that automatically calculates and cuts the joints of the ends of steel pipes. The machine can be widely used in the cutting and processing of pipeline structural parts in shipbuilding, construction, petrochemical, machinery, metallurgy and other industries. And the operator does not need to program, only need to enter the parameters of the radius and intersection angle of the pipe, and the machine can automatically cut the pipe. The intersecting lines, intersecting holes, and welding grooves no longer need manual grinding.
YM-LBP series CNC pipe cutting machine adopts cylindrical coordinate coefficient control, and the number of control axis is 6 axis. With Chinese and English interface, parameter input and man-machine dialogue function, pipe out-of-roundness and eccentricity compensation function, preheating, perforation function, automatic cutting speed control function etc.
The CNC control interface of the YM-LBP series of CNC pipe cutting machines combines graphics and data, and the operation is very simple: the operator only needs to enter the radius, intersection angle, cutting speed and other parameters of the main and branch pipe into the computer and press the "start" button, It can perform automatic operations such as preheating and cutting. A reasonable cutting lead-in and lead-out line is designed in the software to ensure the quality of the cutting surface. The parameters after each cutting can be saved as a file for the same workpiece in the future.
YM-LBP series CNC pipe cutting machine can choose oxyacetylene gas cutting, oxygen liquefied petroleum gas gas cutting or plasma cutting according to user requirements. The maximum and minimum cutting pipe diameter and pipe length can be designed and manufactured according to user requirements.