The work process of Bed model Large Pipe Cutting Machine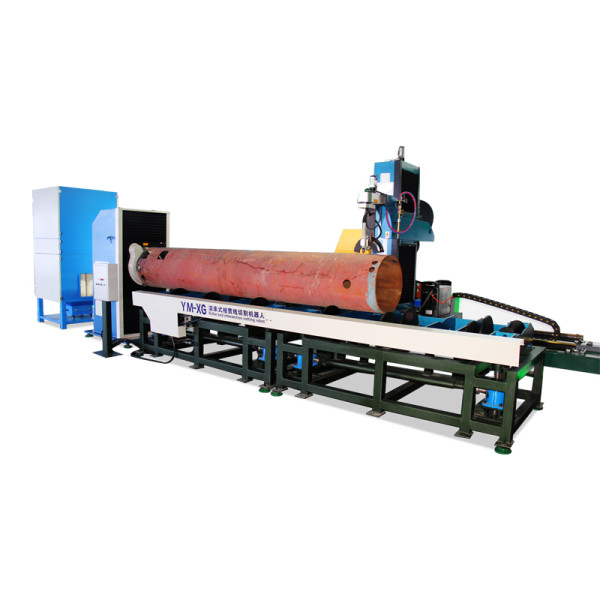 Bench Type Large Pipe CNC Plasma Cutting Machine Visual operating platform,Simple and intuitive operation software.
(1) Programming
Can be programmed directly on the machine or offline editor. Use menu selection to input cutting parameters, such as outer diameter, wall thickness, bevel angle, compensation data, etc. Programming can also be implemented through nesting software. The CAD graphics import nesting software directly generates the cutting program in DAA format, which can be cut by copying it to the device control system through the U disk.
(2)Feeding the tube
Adjust the chuck and jaw up and down according to the pipe diameter, and place the pipe on the loading platform with a lifting tool. Start the tube transmission, hold the tube up and bring it to the chuck electrically. The end of the pipe chuck is clamped, and then lowered onto the support frame. The inner wall of the pipe is supported by an electric clamping device, and then manually clamped with a wrench to complete the feeding.
Tubes of different diameters are placed directly on the support platform, no need to consider the axial horizontal.
(3) Measurement Horizontal angle
Because the fixed two-stage double-row friction wheel is used to support the tube, it is only necessary to place the tube on the bracket without leveling, and no manual leveling is required, which greatly improves the work efficiency.
(4) Pipe locking
Electric adjustable three-jaw self-centering chuck supports the inner diameter of the tube. The elongated concave claw is used to facilitate the beveling of the pipe end.
(5) Start cutting
Move the cutting head to the pipe end for cutting, the device will automatically position according to the program for the next cutting, and complete all cutting procedures according to the programming. When cutting the hole at the end of the pipe, rotate the pipe to the non-claw position to avoid cutting to the claw.
All hole-drilling benchmarks are based on the same cylinder end face. The hole-drilling program can cut the hole radially according to the entire circumference and then cut the hole longitudinally, or cut the hole on the same center line longitudinally and then cut the radial hole or both. Various ways of cutting. After cutting the large hole, it will not affect the rotation of the pipe due to the support at other positions of the pipe.